Do This Before Renewing Amazon Prime (It's Genius)
If you shop on Amazon under the impression that it has the best prices, then you may not get the most out of your money.
Early adopter. Deal hacker. Penny pincher. You probably have friends like us. We're one of the first to download new shopping tools and find obscure coupons, and we're proud of it. After years of hacking online shopping, we decided to build a tool to do it for us — Capital One Shopping.
Look, we love Amazon Prime. Free 2-day shipping is great and, like everyone else, we enjoyed not knowing how much it actually cost. Well, guess what? It isn't free to move items from one location to another, and that cost gets baked into the price you pay.

Here's how it works: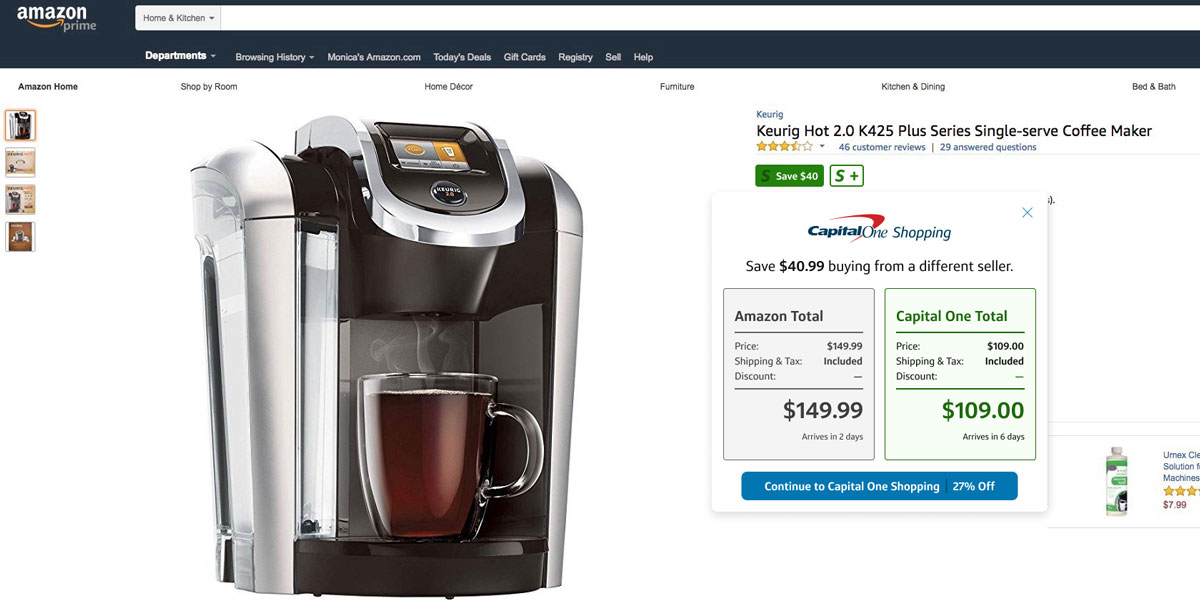 While you shop on Amazon, Capital One Shopping automatically goes to work in the background. If a better offer is found, a notification appears instantly. It shows you the final price of the item (including sales tax + shipping), and notifies you of the delivery date. Same product, just cheaper.
Sometimes you need your order in 2 days, and in those instances, Amazon Prime is the answer. Though, the reality is that if you waited just a few more days for even half of your orders, the monthly savings with Capital One Shopping would pay for your year-long Prime subscription.
Last year Capital One Shopping saved its customers over $160 million, and with just a few clicks you can start saving, too.
The best part? It's completely free. Do yourself (and your wallet) a favor and get Capital One Shopping HERE.
Designed to help users make confident shopping decisions online, this website contains information about a wide range of products and services (such as Honey, Capital One Shopping, Rakuten, etc.) Certain details, including but not limited to prices and special offers, are provided to us directly from our partners and are dynamic and subject to change at any time without prior notice. Though based on meticulous research, the information we share does not constitute legal or professional advice or forecast, and should not be treated as such. Company listings on this site DO NOT imply endorsement.
Editorial Independence: We do receive compensation from some partners whose offers appear on this website. We have not reviewed all available products or offers. Compensation may impact the order in which offers appear. However, our editorial team's content is not provided or commissioned by any advertiser or partner. The opinions, reviews or recommendations expressed in any article are solely those of our editorial team.
Savings found 05/02/22. Our Editorial team updates reviews every 90 days. Sample results shown. Savings may vary. Reproduction in whole or in part is strictly prohibited.
Copyright © 2022 adtechnacity LLC. All Rights Reserved.
By using our content, products & services you agree to our Terms of Use and Privacy Policy.